Today's HSP resource – the First 5 App — is a little more specific than the tools we normally share. It's for the Highly Sensitive Person (HSP) who also happens to be a Christian. Or simply put, the Highly Sensitive Christian.
Can you relate?
To acquaint you with the First 5 App, we're going to answer common questions you might be asking. In the order in which we always do – What, Who, When, Where, Why, and How.
[ez-toc]
Meet First 5 – the Free Christian Bible Study App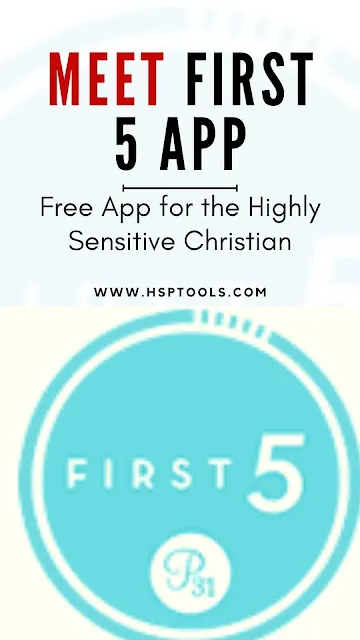 What is the First 5 App?
The first 5 App is a Christian Bible Study app with a mission to transform your time with God. It comes with daily teachings to help users dedicate the first 5 minutes of each day to God. And it contains free and self-paced Bible study plans that you can choose and start at any time of the day.
The app is designed with the Christian woman in mind – though Christian men can use it too (as is evident with current users).
Who Started First 5?
First 5 is an app by Proverbs 31 Ministries – a woman-led organization dedicated to helping women connect deeper with God. The organization is based on the Proverbs 31 woman and is on a mission to meet women where they are – in the really hard places.
A Proverbs 31 woman is, at her core, someone who seeks the Lord in everything she does and trusts Him wholeheartedly with her life. — Lysa Terkeurst, president of Proverbs 31 Ministries
In addition to the First 5 App, this organization offers online Bible studies, training and events, podcasts, conferences, books, and downloadable resources.
Go here to learn more about Proverbs 31 Ministries.
When Can You Use the First 5 App?
Early morning when you wake up is a good time to use First 5. In fact, the app was designed for this very moment – the first five minutes of your day.
Let's put God first by giving Him the first 5 minutes of each day.
But this isn't the only time you can use the First 5 App. The extra features in this app allow you to interact with the app at any time of the day and during any period in your life.
For instance, there's a Plans feature that allows you to access past study plans and select the one you'd like to start on. There's also a "Groups" feature allowing you to join groups and interact with members at the time set by that group. And with some groups, it's any time of the day.
So while the default function of the app focuses on that day's First 5 teaching – what you see when you launch the app – the other features allow usage at any time.
Where do you get the First 5 app?
The First 5 app is available as a free download for both iOS and Android devices. Get it on the App Store here and on Google Play Store here.
Why use the First 5 App?
As earlier mentioned, this is a daily Bible study app for the Christian woman. And for the purpose of this post, it's an app for the Highly Sensitive Christian.
So if you identify as a highly sensitive person (HSP) and a Christian, you should consider using this app.
It will help you establish and maintain a deeper connection with God, through Christ. It will help you make sense of Scripture you didn't understand before. And it will help you open your Bible with excitement instead of confusion.
If this sounds like something you're looking for in a free Christian app, the First 5 app is for you. It's 100% free. And all you pay for in the App are the Bible Study guides available for purchase – and you don't have to pay if you don't need them.
How do you use the First 5 App?
How you use the app will depend on your needs.
If you have only 5 minutes to spare in your day, you can focus on the daily first 5 teachings and nothing else. If you have more minutes, you can take on a deeper Bible study session or join and interact in one of the groups on the app.
You can also opt for a different Study plan if the current one doesn't suit you or doesn't speak to what you're going through. Explore the "Plans" section to see what study suits you and your period best. Then go ahead and study that.
4 main features on the First 5 App
First 5 – This section features everything we've been talking about. It's the first thing you see when you launch the app, and it's where the daily first 5 teaching is. The teaching usually has the main message, quotes and links to a passage in the Bible, then in the writer's words, teaches what you can learn from that passage.
Profile – This section is host to your profile details. It has your name, bio, and profile picture. And it includes information on how you've been using the app. It also has a summary of all your activities, study plans, highlights, bookmarks, notes, moments, and groups. So basically, if you've highlighted a verse, favourited a study, or taken notes, you're going to find all that information in the "Profile" section.
Groups – This goes without saying, but we'll say it anyway. This section is home to all your groups and has a prompt asking you to join or create a group.
Plans – If you ask us, this is the heart of the First 5 app. It's not the daily teachings, the groups, or the Bible features. The Plans section is where we live and love. It shows you your current and past study plans and then lists all the plans available in the app. These plans are listed in the following categories:
Old Testament Plans – Includes studies for individual and bundled-up books of the Old Testament.
New Testament Plans – Includes studies from the books of the New Testament.
Multi-Book Plans – Studies that include more than one book of the Bible.
Single-Book Plans – As the name suggests, this category is for studies that focus on one book.
Biblical Theme Plans – Studies in this category focus on a topic or theme, such as Advent, or one specified by the creators.
You'll need to get the app to explore and understand the depth of teachings available.
In conclusion
The first 5 App is a great tool for the highly sensitive Christian woman looking to connect deeper with God.
It comes with reminders to study every single day, so you never have to say you forgot. And it comes with a great community of people sharing their moments and struggles in the comments section – known as Moments.
The Groups section is also a great place to find a community of like-minded individuals and study partners. Or to just share memes and have a good laugh.
So depending on your needs, get the app to explore if it's a good fit. Because, while we may love it so much and recommend it to you, only you can decide if the First 5 app meets your needs.
***
Read More: