Are you the parent or caregiver of a Highly Sensitive Child (HSC)?
If you're not sure the child you're raising is sensitive, take this free test by Dr. Elaine N. Aron. It will confirm your suspicions and explain what it means to have a sensitive child.
Today's post shares nine best books for the Sensitive Child. Read these books to sensitive kids as a form of inspiration and motivation and to help them understand they're not alone.
The books in this post are recommendations from Alane Freund, LMFT and ICHS.
About Alane Freund
Alane Freund is a Licensed Marriage and Family Therapist (LMFT) and an International Consultant on High Sensitivity (ICHS).
She has over 30 years of experience working in Mental Health and now specializes in Highly Sensitive People.
In her work with HSPs, Alane creates programs, workshops and coaching sessions for parents, families, the youth, and LGBTQ+ people.
So, she knows a thing or two about the best resources for sensitive people.
Find below the nine best books for the Sensitive Child, according to Alane Freund.
Best Books for the Sensitive Child, according to Alane Freund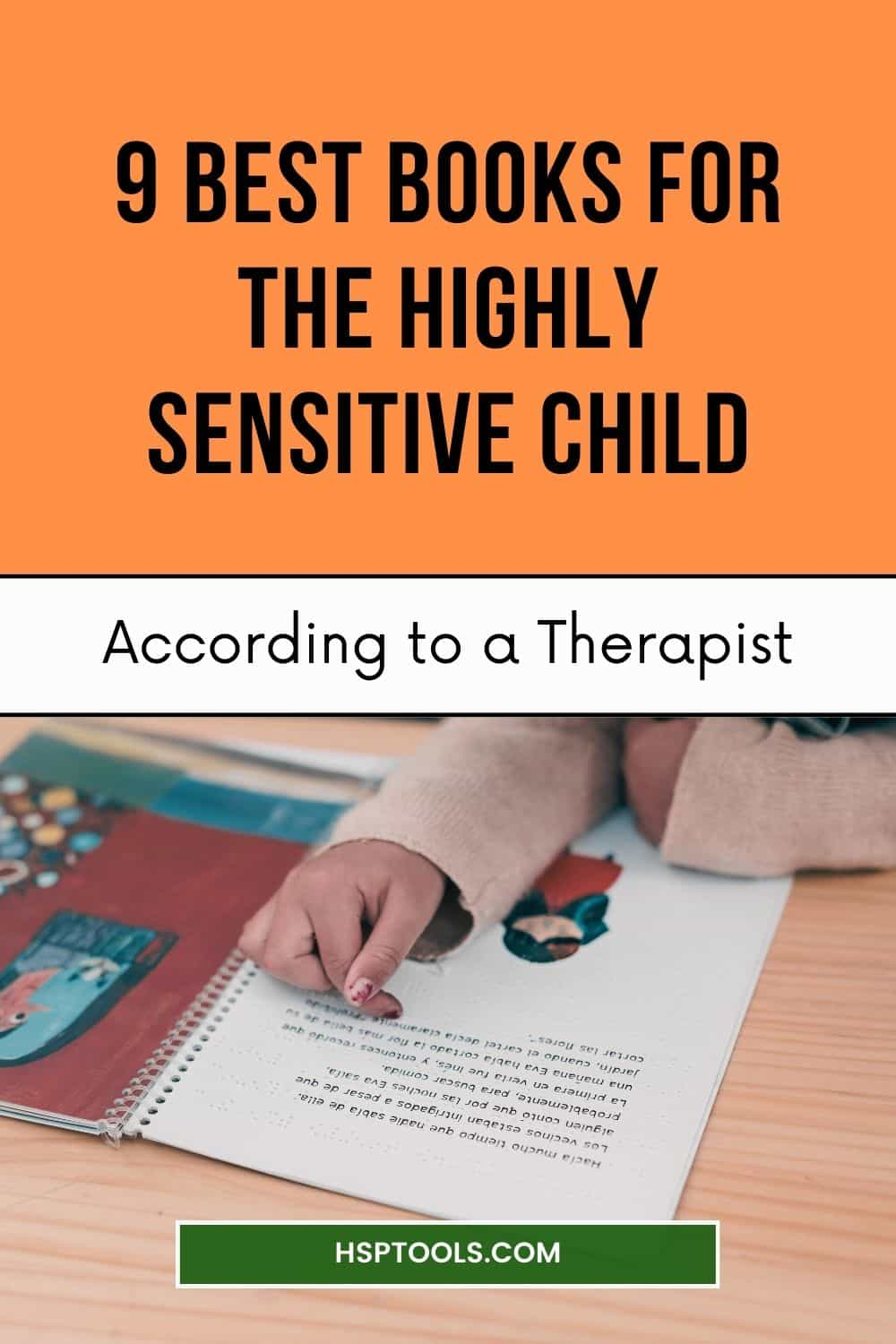 1. Violet Shrink by Christine Baldacchino
This book is about a young girl who experiences social anxiety during family gatherings and how she works with a father to find a solution.
It encourages sensitive children to express their feelings and demonstrates how imagination can help them overcome anxiety. Get the book on Amazon.
2. Let's Go Home, Little Bear
This book is part of a series of books for sensitive children by Martin Waddell and Barbara Firth. It shares the story of Big Bear and Little Bear on their way home from a long walk in the woods.
In the story, Little Bear is sensitive to the strange sounds around him and becomes afraid. And with the help of Big Bear, they find their way home safely.
Other books in the series include:
3. Giraffes Can't Dance
Alane Freund describes Giraffes Can't Dance as a book about being different. The book follows a giraffe named Gerald on a journey to achieve his dream – dancing.
His crooked knees and long legs make it almost impossible to dance. But with encouragement from an unlikely friend, Gerald finally learns to dance to his tunes and fulfils his dreams.
4. The Kissing Hand by Audrey Penn
Popular among kindergarten teachers, The Kissing Hand is part of a 9-book series by Audrey Penn. The book shares the story of Chester Racoon, who doesn't want to go to school on his first day. His mother, Mrs Racoon, shares a family secret called The Kissing Hand to reassure him of her love whenever his world feels scary.
5. Up in the Tree by Margaret Atwood
First published in 1978, Up in the Tree joins this list of books for the sensitive child as another favourite by Alane Freund. The book is for children between the ages of 3 to 6, and its description reads as follows:
Two children rejoice in their home up in a tree, free from parental guidance and earthbound concerns. But when beavers gnaw their ladder into matchsticks, the children are not sure they want to be quite so alone. Playful, whimsical, and wry, the story is vintage Atwood.
6. Mama's Home by Shay Youngblood
Written by award-winning author Say Youngblood and illustrated by Lo Harris, Mama's Home is about a young girl basking in the warmth and love of her community.
"Home can be a blue house with white trim you share with your mama", reads the description. "But it can be bigger than that, with lots of Big Mamas to take care of you when your mom works—different houses for every day of the week."
7. The Rainbow Fish
Written and illustrated by Marcus Pfister, The Rainbow Fish is a bestselling book about the most beautiful fish in the ocean.
It tells how the fish becomes lonely due to its pride and vanity, realizes you can't win friends with beauty, and begins distributing his glitter scales to other fish.
Alane reads The Rainbow Fish and recommends it as one of the best books for the sensitive child.
8. A Fly Went By
Written by Mike McClintock and illustrated by Fritz Siebel for Beginner Books, A Fly Went By is a fun book about different characters following a frantic fly.
A young boy sees the fly buzzing past him and asks where it's headed. After which, a chase ensues, including a frog, cat, dog, pig, cow, fox and more characters.
A Fly Went By tells a feel-good story your sensitive child will love.
9. The Big Yawn
The Big Yawn concludes this list of recommendations for the best books for the sensitive child.
It's about what happens at night in the rainforest and includes yawns from a parrot, a snake, a gorilla, and a tiger.
Final Word on Best Books for the Sensitive Child
We found these books for the sensitive child on Alane Freund's YouTube channel. She has nine different videos reading each of these books for sensitive kids.
Below, watch a video of Alane Freund reading Giraffe's Can't Dance.
Alane Freund is active on YouTube and Instagram, regularly posting helpful videos for and about Highly Sensitive People (HSPs). She also shares HSP challenges you will love.
Subscribe to her channel and follow her on Instagram to learn more about the HSP trait and discover more resources.
More Book Recommendations