Are you a highly sensitive man?
Highly sensitive people (HSPs) consist of about 20% of the entire population. And this is true for both genders.
So to know how you score on the sensitivity scale, take this free quiz. Or check to see if you possess any (or all) of these signs of a highly sensitive man.
Signs You're a Highly Sensitive Man
This list of 13 signs you're a highly sensitive man is from this post on Highly Sensitive Refuge.
You're easily overwhelmed by sensory input
You process information more quickly
You're sensitive to other people's moods
You're more aware of your needs
You're more emotional
You're conscientious and detail-oriented
You're an ideal leader
You don't like change
You don't have a high threshold for pain
You easily get hangry (angry when you're hungry)
You constantly need alone time
You avoid violence in movies and TV shows
You appreciate the little things
Now that you've confirmed you're indeed a highly sensitive man, here are 10 books to read about high sensitivity.
Many of these are specific for men, while some are intended for every highly sensitive person (HSP); regardless of gender.
We hope you'll find these books an amazing resource and tool to help you live your best HSP life.
10 Books to Read for the Highly Sensitive Man
1. The Highly Sensitive Man by Tom Falkenstein
Tom Falkenstein is a Cognitive Behavioural Psychotherapist who trained under HSP pioneer, Dr. Elaine N. Aron.
In this book, Falkenstein incorporates the most up-to-date research on high sensitivity as it relates to male identity, and provides one-of-a-kind advice and practical tools.
The Highly Sensitive Man explores how mastering natural instincts, ethics, and empathy can enrich men's lives and the lives of those who love them.
2. Confessions of a Sensitive Man by William Allen
Confessions of a Sensitive Man is for every man or boy that has ever been told they are too emotional.
Because masculinity isn't defined by how much you feel, sense or experience emotionally.
And with 20% of the male population being Highly Sensitive, this book is a starting point for highly sensitive men to become self-validated.
3. The Strong Sensitive Boy – by Dr. Tedd Zeff
In this book, psychologist Ted Zeff explores the unique challenges of sensitive boys, showing parents, educators, and mentors how to help sensitive boys grow into strong, happy, and confident men.
Dr. Zeff offers practical advice on how to help your son increase his self-esteem and thrive in the family, at school, with friends, and in sports.
But The Strong Sensitive Boy isn't just for young boys.
It's also important for Highly Sensitive Men to read to help them heal their childhood wounds, learn to navigate this aggressive, overstimulating world, and accept themselves as sensitive men.
4. On Being a Sensitive Man – by William Allen
This book is the follow-up companion to Confessions of a Sensitive Man. It encourages Highly Sensitive Males to stand up for their sensitivity and the gifts associated with the trait.
By developing a healthy mindset, HSP (highly sensitive person) men can exert influence in a world that is often insensitive to the needs of others.
And according to William Allen, On Being a Sensitive Man aims to provide strategies and tools for highly sensitive men to help them navigate their lives.
It discusses the correct mindset, how to expand the comfort zone, dealing with change and strong emotions, the right livelihood, how to calm the mind, and moving towards self-acceptance.
5. Empowering the Sensitive Male Soul by Tracy Cooper
In this book by Dr. Tracy Cooper, the author of "Thrill: The High Sensation Seeking Highly Sensitive Person", you will learn how to use your personality trait in ways that empower yourself and others.
Dr. Cooper draws on his original research and others and years of working with highly sensitive men as a consultant on many crucial areas of life.
And he explores the topic of highly sensitive men from a viewpoint that is broad, by addressing topics such as anger in men, perceptions, and Misophonia.
Get a copy of Empowering the Sensitive Male Soul on Amazon today.
P.S.: Misophonia is a condition where certain sounds trigger a strong emotional and physiological response that's sometimes considered unreasonable.
6. The Highly Sensitive Man by Dan McLeod
If you are looking for a book for the Highly Sensitive Man that is purely relatable and makes you feel like you are reading your story, this is the book for you.
The Highly Sensitive Man book is "Dan's story of life as a Highly Sensitive male, including what has kept him engaged with life and how he has managed and sometimes mismanaged his High Sensitivity.
Join Dan on his courageous journey to explore his HSP trait, all the while giving other Highly Sensitive Men hope and one clear message: You are not alone."
In the End
This list of books for the highly sensitive man should provide a great gift option. This is either as a gift for your dad, husband, or partner.
Or even for yourself as a highly sensitive man and father.
And because we're obsessed with providing tools to help sensitive people around the world live their best HSP life, we hope this list becomes a great resource for you in your HSP journey.
Pin this for later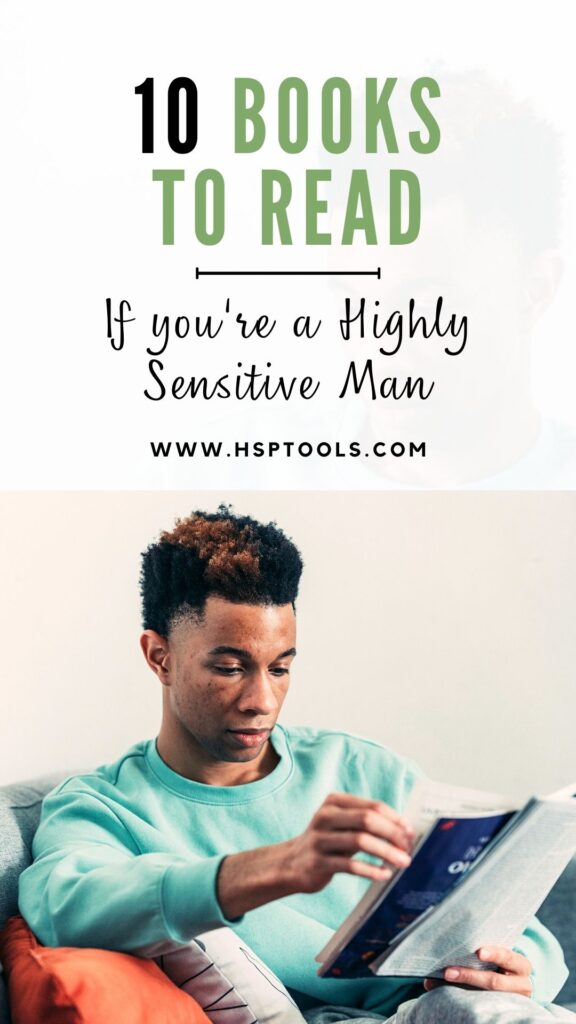 ***