You can do a quick Google search to find HSP coaches and therapists near you. But sometimes, the information you find on Google can be misleading, confusing, and overwhelming.
And that's why in this post, we've done the search for you and compiled a list of 7 places where to find HSP Coaches, HSP Mentors, HSP Therapists, HSP Healers, and other HSP practitioners you may be looking for.
Let's dive in.
7 Places to Find HSP Coaches and Therapists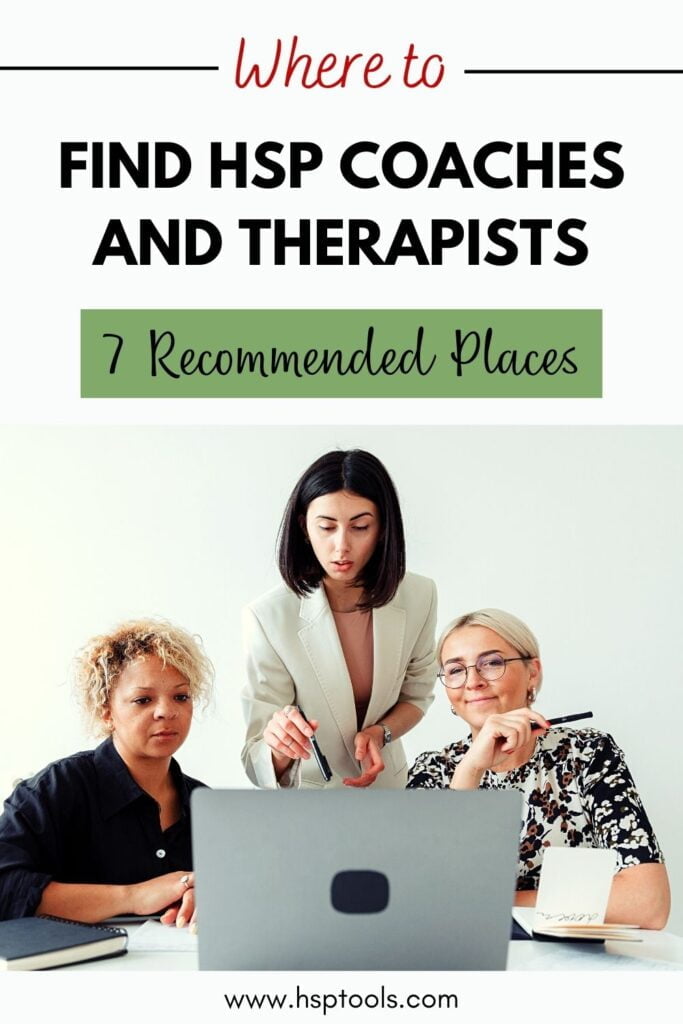 1. Dr. Elaine Aron's Website
The first place you should begin your search is on Dr. Elaine Aron's website. And if you don't know already, Dr. Aron is the pioneer of the HSP trait and the person who coined the term "Highly Sensitive Person".
She's a Psychologist, Author, and Researcher for everything HSP.
So you know she knows almost everything there is to know about being an HSP, as well as coaching and counselling for HSPs.
She even has a test for HSP practitioners about the trait of high sensitivity. And whoever passes the test gets listed on her website as a knowledgeable HSP practitioner.
It is on this page on Dr. Elaine Aron's website that you can find HSP coaches, therapists, and other practitioners specializing in helping HSPs. There's a different database for Coaches, Therapists, and Medical Professionals.
And what's more?
If you're looking for a therapist, you can search the database by State (if you're in the US), and Country (if you're outside the US). And if you're looking for a coach, you can search based on the type of coach you want (life coach, business coach, career coach, etc.).
2. Julie Bjelland's Website
We feature Julie Bjelland a lot here at HSP Tools. She's a Psychotherapist specializing in high sensitivity and has a ton of resources for Highly Sensitive People (HSPs) on her website.
In fact, feel free to check out Julie's vault of HSP resources when you have some time to spare.
Among her many resources, there's a directory of HSP Practitioners where you can find HSP Coaches, Mentors, Therapists, and Healers.
And like with Dr. Aron's database, every practitioner listed on Julie's website has taken a test about HSPs. So you can be sure when a therapist or coach on the list says they specialize in high sensitivity, they truly are knowledgeable in working with HSPs.
Here's the directory for HSP practitioners on Julie's website.
3. The National Centre for High Sensitivity (NCHS)
Founded by Barbara Allen, and sadly closed in 2020, The National Centre for High Sensitivity (NCHS) is a website promoting awareness, fulfilment and authentic living in the highly sensitive population.
And while NCHS no longer posts new content, the information published before the closure lives on and is available as a resource for HSPs seeking support.
One of the resources available on the NCHS website is the HSP Support Directory. It contains a list of practitioners who specialize in counselling, coaching and healing highly sensitive people (HSPs). And it includes each practitioner's contact information so you can reach them directly to learn more.
4. Empath Diary's Website
HSP Tools has shared the Empath Diary website before while listing Jeannette Folan as one of the 10 HSP Experts you should know. Jeannette is the founder of Empath Diary and creator of this HSP training program for Mental Health Professionals.
But today, we're sharing this website as a place to find HSP coaches, mentors, therapists and other practitioners. This is because Empath Diary has a comprehensive directory of HSP practitioners listed by State, Country, and is available in alphabetical order.
The directory shares the name of the mental health professional or wellness coach, their title, and contact information. Here's the Directory; feel free to browse or join.
5. The Highly Sensitive Humans Website
Highly Sensitive Humans (HSH) is a website by Jules De Vitto – a Transpersonal Coach and Trainer for HSPs and HSP professionals.
It's also home to the Highly Sensitive Human Academy where Jules offers various pieces of training, such as this 3-month online course to become an HSP coach.
On the website is a page titled "The Highly Sensitive Human Directory". It is on this page where you can find professionals who specialize in working with highly sensitive people (HSPs). You will find HSP coaches, mentors, therapists, and other lightworkers in the industry.
Here's the link to the directory for your exploration needs.
Oh, and did we mention the professionals in this particular directory pay an annual membership to be listed? They do.
6. The Service Directory at SensitivePerson.Com
When we first came across this website, we thought to ourselves: What are we looking at? The website is so simple, available in HTTP instead of HTTPS, and almost looks like a spam site. We even wanted to exit and find another resource to share instead of it.
But after deciding to give it a shot and exploring its Service Directory page, we realized the website has a huge database of HSP practitioners. And not only can you find HSP Coaches, mentors and therapists, but also practitioners in other industries.
You can search for dentists, musicians, personal trainers, writers, etc. And they all either specialize in working with highly sensitive people (HSPs) or are HSPs themselves. You'll have to check it out for yourself to see how extensive the directory is.
Here's the Service Directory for Sensitive Persons. It features a list of categories at the top, designed to simplify your search depending on the service you want.
So if you're looking for an HSP coach, try searching in the "Coaching" category. And if you're looking for an HSP therapist, try the "Counseling", "Psychology", or "Psychotherapy" sections.
And because it's an extensive directory, you may need to take your time searching through it. Not to mention due diligence, to make sure the person you're getting in touch with is legit.
7. Social Media
Telling you to find HSP coaches and therapists on Social Media is almost the same as asking you to search Google. It's confusing, misleading, and overwhelming. And that's why we're listing Social Media as the last entry.
But don't get us wrong. Just because we're listing it last doesn't mean it's not an important resource for finding HSP practitioners. In fact, we've come to find that Social Media is a great resource to find exactly what you're looking for.
You only need to know exactly what that is.
For instance, instead of looking for a general HSP coach, HSP therapist, or HSP healer. Look for an HSP practitioner who specializes in the issue you're struggling with.
So if you're struggling with anxiety, people-pleasing, nutrition, business, setting boundaries, or depression, look for a coach that speaks openly about those issues. And hopefully, one who specializes in exactly that problem you're having.
That's how to find the right HSP practitioner on social media.
And it doesn't matter if you're searching on Twitter, Instagram, Pinterest, LinkedIn, or Facebook. As long as you know exactly what help you need, you can find the right HSP coach, therapist, mentor, or healer for you.
In the End
These 7 places provide a great place to find HSP coaches, therapists, mentors, healers and other practitioners. But if we were to offer recommendations as to where you should start if you're new to high sensitivity, we recommend Dr. Elaine Aron's directory and Julie Bjelland's directory.
These two directories provide a list of practitioners who not only say they work with highly sensitive people but have also taken a test to prove they're knowledgeable in the trait of high sensitivity.
So if you need a coach or therapist that understands you as an HSP, you can be certain the people in these two lists are qualified. Because they've taken a comprehensive test about HSPs and high sensitivity and passed.
And you can rest assured you're working with a knowledgeable HSP coach, mentor, therapist, healer or another HSP practitioner.
***
with love and kindness,
HSP Tools